W00t! I just got home fresh from the Colony Wars event a while ago. I just went and made my life more difficult by covering not just one, but
two
CW happenings in Cervantes and Caravaggio servers, specifically for
CARNAGE
and
PasawayProphecy
factions respectively. But since I'm already digressing, I'll talk about that in tomorrow's post.
Anyway, I've been feeling quite giddy over the prospect of an Idge Imbrulia cosplay. Not too many people appreciate this particular RNPC, so I've decided to immortalize my fandom of the Illier blacksmith by cosplaying as her on the upcoming GE PH Commercial Launch Party on September 15.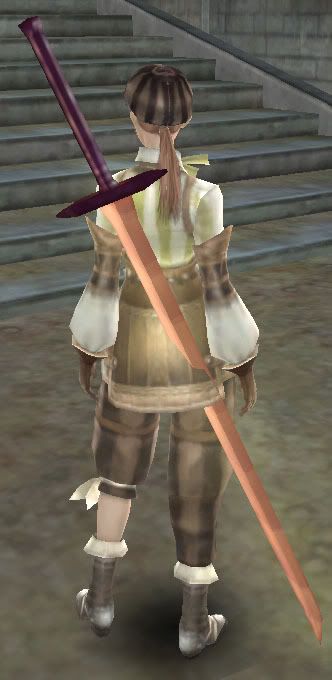 This is the Idge version I'll be wearing, complete with the huge ass Castor sword.
And here are just but a few developments of the costume:
Idge's breastplate and..uhh..a wrench XD.
We all know Idge looks kinda boyish in her getup, but her armor does flatter her nice figure. The breastplate for one, hugs her top frame. I'm particularly happy with the actual turnout of this, considering that the paint applied on the rubber foam made it look like an old piece of metal. The engravings on the armor are actually strips of rubber foam and glue gun painted in silver.